ExerciseBike.net is a collaboration of biking enthusiasts, fitness experts and industry insiders. Our goal is to bring readers the most up-to-date information on the growing indoor bike market and to provide thorough and honest reviews of the latest exercise bikes available to consumers. We've developed a fair and elaborate review process that prevents brand or model bias, so we can ultimately assess each machine objectively for what it is. There are numerous factors we consider in our review process and we research each bike carefully before we form an opinion. If you see something that is inaccurate or needs our attention, please let us know via our contact page. We hope you get value from our content and if there is anything we can do to help, please drop us a line.
ExerciseBike.net Disclosure
ExerciseBike.net is a participant in the Amazon Services LLC Associates Program and other similar affiliate advertising programs which are designed to provide a means for us to earn fees by linking to such affiliates' websites such as Amazon.com. These relationships do not affect our reviews in any way – all opinions are our own, based on product testing and research.
Editorial Staff
Justin Mastine-Frost — Editor-In-Chief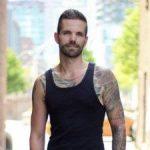 A diverse career spanning construction, automotives and journalism has given Justin a discerning eye for quality in product construction and engineering. Justin fuses his technical know-how with a personal passion for fitness to bring the ExerciseBike.net community a thoughtful curation of objective exercise bike reviews. Whether it's deciphering which new bike is worth your hard-earned buck, or debating whether the latest workout app can really help you
 get your spin on, you can rest assured that our insightful reviews will help you make the right purchase decision for the long haul.
Brian Boyce — Bodybuilder and Nutritionist
A lifelong athlete who began lifting weights for football in high school, Brian is a 7-time national qualifier in NPC men's bodybuilding competitions, as well as an occasional powerlifter and all around fitness enthusiast. After an award-winning writing career in newspapers and magazines, he purchased a small farm in rural Indiana and quickly converted one of the barns into a gym complete with commercial fitness equipment purchased online as well direct from area gym owners. His love of fitness and competition has led him to certifications in exercise. Brian brings to readers a user's experience in a wide range of exercise equipment suited for commercial gyms or the garage. With more than 30 years personal experience in facilities of all levels with lifters aged teens to senior citizens, he'll help you find the best product for the price. When not lifting in his barn gym to hard rock and country music, Brian enjoys hiking with his dogs and experimenting with the raising of various fruits and vegetables in his garden.
Lisa Chin Quee — Editor/ Health & Wellness Expert
Lisa Chin Quee is all about healthy living – mind, body and soul. So clean eating (albeit she cherishes her junk food day), a good sweaty workout (daily), meditation and a good dose of laughter is a near perfect day for her. It's only natural that through her 20 years in publishing as a writer and editor she has covered a wide range of health related topics. She is driven by the empowerment of women whether it is about preventative health or balancing the other essentials of life. You can find her tidbits on her blog, lisaliving.com.
Nakisa Yeganeh — Merchant Manager
Coming from a multi-dimensional fitness background, Nakisa's journey began as a competitive inline figure skater and snowboarder. At the age of 15, she secured 2nd place for Iran's NationalJunior skating team. After moving to Canada and studying Kinesiology at York University, as well as further certifications at Centennial College, her passion for fitness led her to pursue workas a Personal Trainer, manager, and fitness counselor at various fitness facilities, as well as working as a Recreation Therapist. It's these multiple touch points in various facets of the fitness industry that positions Nakisa perfectly for her arrival as Merchant Manager for Exercisebike.net. From meditation retreats to avidly reading any literature pertaining to nutrition, healthy mind & body, Nakisa is consistently seeking out further self-development. What started off as a passion has now turned into an obsession to support and help those who are in need whether it's patients, or people who are pursuing their own fitness journey at any level..