In the ESPN documentary series "The Last Dance," viewers got an inside look at how far Michael Jordan pushed his competitive tendencies and how much Jordan attributed his success to that competitive drive.
But does it work that way for everyone?
Under the right circumstances, having someone (or something) to compete against can provide a healthy burst of motivation at work, at home, and even at the gym. When it comes to fitness, setting a goal as "something to beat" can help push you to new heights – even if the person you're competing against is yourself.
But how deep do these competitive streaks run, and how easily can competition occasionally cross the line? To find out, we surveyed over 1,000 people about their workout behavior to understand what motivates them and whether they carry that same level of competitiveness into the workplace. Read on as we break down how often people prefer to compete with others over themselves (and how well it works), if being competitive in the gym gives you a substantial advantage, and how often physical competition makes us more successful in the workplace.
Reaching for a Rivalry
As long as you keep your motives in check, working up a competition can have a positive impact on your fitness routine. Whether you're just getting started, or you're trying to get over a plateau, having a goal to compete against can help push you when you start to feel like giving up.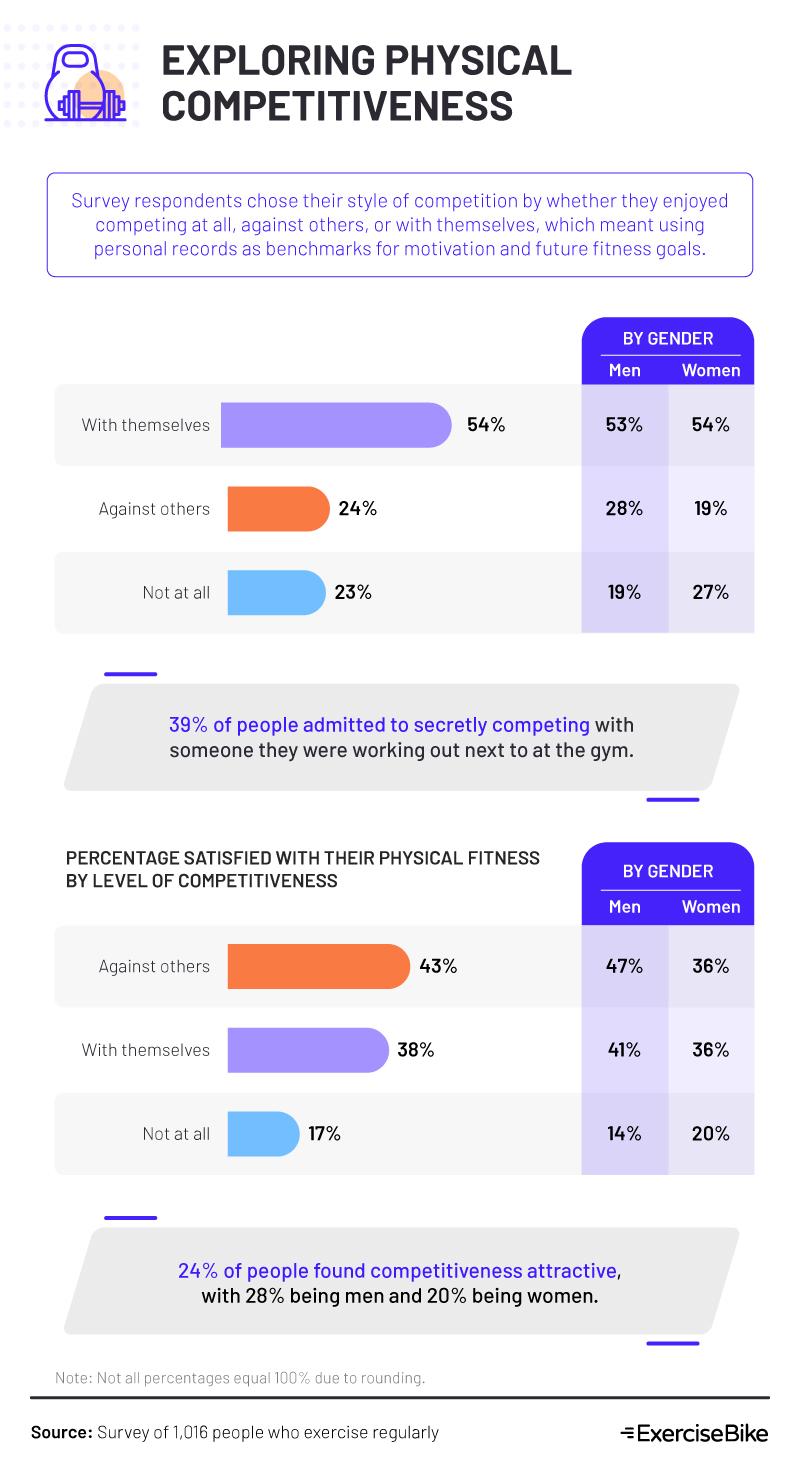 For a majority of people, competitive exercise was more likely to be internalized rather than involve another person. Compared to 23% of people who identified as not at all competitive and another 24% who prefered to compete with others, 54% of respondents acknowledged being competitive with themselves. Of course, sometimes you can't help but compare yourself to the people around you. Thirty-nine percent of people admitted to naturally creating "competitions" with people working out near them, a tendency that was slightly more common in men than women.
And while internalized competition was more common than physically competing with others, those who reported being competitive with other people (43%) were more likely to identify being satisfied with their overall fitness, compared to those who opted to compete against themselves (38%). Just 17% of people who didn't identify as being competitive at all said they were satisfied with their overall physical fitness.
X-Factor
Whether your competition is a personal endeavor or you enjoy engaging with others as a measure of your success or progression, having a healthy dose of competition as motivation could be the X-factor you need to push further.
When asked to rate their level of improvement in various aspects of their fitness journeys over the last year, people with some form of competition were far more likely to report seeing positive changes, particularly those opting to compete against themselves. Compared to 38% of people who didn't identify as competitive, and 47% of people competing against others, 59% of people competing with themselves said they saw an improvement in their endurance.
Similarly, people competing against themselves were 17 percentage points more likely to see an improvement in their strength and 21 percentage points more likely to see their enjoyment of exercise increase. Competing with others proved most valuable in measuring speed, with 46% of those tracking their performance against others seeing a positive improvement, compared to 39% of people focused on beating their own personal records.
Contested Exercise
As we found, healthy competition can have a measurable impact on how much you enjoy working out, your strength and endurance, and even your speed. As positive as a competitive streak can be, it's possible to take things too far; the result could be feelings of stress or unhappiness.
The odds that you might find yourself competing against other people may also depend on the kind of exercise you're doing. Among people surveyed, yoga was the most likely exercise type to trigger competitions with other people (28%), followed by cycling (27%) and weightlifting (25%). While yoga may seem like a more solitary form of exercise, this physical activity has competitions and championships that lean toward labeling yoga as a sport rather than an individualized practice.
Of course, just because you're competing against someone doesn't mean you need them working out right next to you. People opting for solitary workouts were the most likely to feel motivated to exercise (47%), followed by noncompetitive group workouts (46%). Only 21% of people in extremely competitive group workout environments reported feeling motivated to exercise.
Out of the Gym and Into the Office
Exercise isn't just good for your physical health or trimming inches off your waistline. Research continues to point to the mental health benefits of working out, including stronger memory, better ability to focus, and even increased bursts of creativity. Because of the positive impact working out can have on the brain, some professionals say exercise is the most important thing they can do for their career.
Your competitiveness at the gym may also follow you back into the office. Sixty percent of people who reported being competitive in their fitness also identified being competitive in their work lives, mostly leading to a positive outcome.
Compared to people who weren't physically competitive, those with a bit of competition in them were more likely to indicate having improved relationships with their co-workers (38%) and bosses (29%) and to feel ambitious in their careers (26%). In contrast, people who didn't feel physically competitive (37%) were more likely to indicate consistently meeting their deadlines.
Compared to 40% of people who weren't at all physically competitive and 43% of people who identified as just somewhat physically competitive, 75% of people with a competitive streak reported feeling successful in their careers.
New Normal
For many people, the global health pandemic caused by COVID-19 has impacted nearly every aspect of our daily lives, including how (and where) we work out.
Despite the challenges of acclimating to a new normal without access to gyms or fitness classes, many people are pivoting their workout routines to include at-home exercises as a way to stay healthy during quarantine. Even though it might be challenging, 37% of people reported having more motivation to work out since COVID-19, and 26% of people said they exercise more now than before the pandemic. And though 32% of people reported feeling less motivated to workout, 1 in 5 respondents identified being more physically fit since COVID-19 interrupted their life. Across the board, women were consistently more likely than men to report increased motivation and a higher likelihood to workout through the pandemic.
Finding Your Motivation
Now, possibly more than ever before, finding what motivates you to stay healthy is imperative. With our regular routines disrupted in so many different ways, that motivational drive could help you stay engaged and passionate about your fitness journey at a time when it might seem easier to simply give up.
As we found, engaging your competitive side could do the trick. Whether you want to compete against yourself or against other people, respondents with some physical competition in their life reported having increased endurance and strength, in addition to more motivation to work out. And even though gyms and fitness studios are opening up again, home workouts are still convenient and satisfying. At Exercisebike.net, you can find the perfect exercise bike for you, whether you like to ride solo or prefer the competitive environment of a virtual group class. Visit Exercisebike.net to browse hundreds of expert reviews and find the bike most suitable to your competitive style and workout goals. Whatever it takes to get you moving, a little added dose of competition might help you go the extra mile.
Methodology
For this project, we surveyed 1,018 people who exercise regularly. Respondents had to at least work out 2 to 3 times a week to qualify. They had to answer questions about competitive levels of exercise and how these affect their everyday life. Respondents ranged in age from 21 to 63 with an average age of 36 and a standard deviation of 10. Forty-seven percent of respondents identified as women, and 53% identified as men.
For short, open-ended questions, outliers were removed. To help ensure all respondents took our survey seriously, they were required to identify and correctly answer an attention-check question.
Limitations
These data rely on self-reporting by the respondents and are only exploratory. Issues with self-reported responses include, but aren't limited to, exaggeration, selective memory, telescoping, attribution, and bias. All values are based on estimation.
Fair Use Statement
Not everything has to be a competition. We encourage the sharing of these findings with your readers for any noncommercial use with the inclusion of a link back to this page as credit to our team of contributors.