If you are looking for a new exercise bike to help you keep fit during these strange times, one bike you may have your eyes on is the Peloton Bike. Arguably the hottest piece of fitness equipment to hit the market in decades, the Peloton bike is to exercise bikes what Uber was to the taxi world—an innovative game changer that made the fitness establishment have to entirely reevaluate what consumers want out of home fitness. Streaming and live training has become the name of the game not only in indoor cycling, but also throughout the entire fitness equipment industry. Especially amidst a global pandemic, people are looking to amp up their home fitness game, and the Peloton model delivers in spades.
The big question now is how does it fare against the competition? The competitive pool has grown substantially since the first Peloton Bike hit the market but in a Peloton vs. ProForm showdown, who comes out on top? That's what we're here to solve today. At present, Peloton and ProForm both have two offerings in the market, technically, however the two ProForm bikes are effectively the same bike in different color schemes with two different ways of purchasing (more on that later). The Peloton Bike+, which is the brand's newest addition to the lineup, comes with a host of new features and an even steeper $2,495 price tag. For the sake of a closer-to-equal comparison, in this article we're focusing on the classic Peloton Bike.
Peloton vs. ProForm?  Which wins out in this battle? It's not so much a case of which wins out, but which is better for you. That is what we are going to aim to get at with this article, so you can make an informed decision.
To see Peloton best price read here 
To see ProForm best price read here 
 
Peloton
ProForm
Footprint
48″ x 24″
56.5″ x 21.9″
Frame
Welded steel frame
Commercial-Gauge Solid Steel
Resistance
Magnetic resistance with a 0-100 scale resistance setting
Magnetic resistance with 22 settings
Drive
Belt
Belt
Console Features
21.5″ HD Touchscreen

Wifi connection for streaming training

Bluetooth connection for personal audio connection

10″ HD Touchscreen

Wifi connection for streaming training

Aux audio input

Camera
Yes
No
Streaming/Live Training
Yes
Yes
Fan
No
no
So what does all this mean? How do these two bikes stack up? Let's take a closer look. To read our full review of the Peloton series, see here. To read up on the ProForm series, see here.
Footprint
When looking at the foot print of the Peleton vs. ProForm exercise bike, we do see that the ProForm bike is a reasonable amount longer. It's not a
huge gap, and really a matter of mere inches, but if you are exercising in a small space, this could become a consideration for you. Most people should fit both quite easily, but it still is worth mentioning nevertheless.
Frame
Next up we need to consider the frame of the bike. Both exercise bikes are made from high quality steel, so there shouldn't be much difference between them in terms of their overall durability. In terms of warranty, the Peloton offers a 5-year guarantee on the frame and one year for parts and labor. The ProForm model offers a 10-year warranty on the frame and two years for parts, one year for labor. Structurally, the Peloton offers a 297-pound maximum user weight versus the ProForm's 250 pounds.
The frame of the bike is a consideration point because this can impact how stable and durable it feels, so both bikes should have no issues with this.
Resistance
Now let's consider the resistance levels. The resistance on both bikes is magnetic, which will ensure a smooth and quiet ride. On the Peloton Bike we have a control knob that adjusts on a 0-100 percentage-based scale, which is the norm when looking at most traditional indoor cycling bikes. By comparison the ProForm has its resistance blocked out into 22 steps. In the real world there are two schools of thought here and neither are really wrong. With 22 steps you will notice a tangible difference between each resistance level. With a control knob, you'll have less precise control over adjustment, but you'll also have the freedom to dial in a more exact resistance setting that feels comfortable.
Where the bigger difference comes into play with the resistance settings is how it meshes with your streaming training sessions delivered by Peloton or iFit (on the ProForm). With Peloton, riders adjust their own resistance throughout the training session, whereas the resistance changes happen automatically on the ProForm. This is a neat function that we're fond of, simply because it keeps the rider from being distracted from their workout as they make adjustments. Peloton is clearly aware that this is a popular feature, as it has been added onto the new Peloton Bike+.
Console Features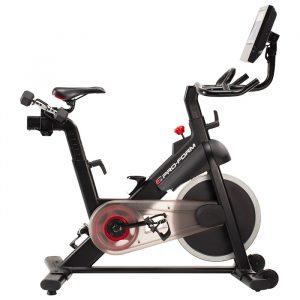 Here's where things start getting interesting, and an area that will really separate one camp from the other when it comes to cross-shopping these bikes. On one hand, these two bikes are similar in that they both have HD touchscreens, and they both offer live and streaming training classes as part of a subscription package for $39/month. Granted, the ProForm bike's screen rotates 180 degrees and allows for more tilting. The Peloton screen is relatively fixed. Where they differ is that this subscription is an additional cost for Peloton Bike buyers, whereas it's included (in varying degrees) with both ProForm Bikes. In the case of the ProForm Studio Bike Pro, the current offer is that you can sign up for 3-years of iFit streaming training membership, and the bike is thrown into the deal for free (making your total cost of ownership after 3 years $1,403). This bike also comes with two 3-pound dumbbells. With the Limited version, you can purchase the bike for $1,999, and receive a year of iFit membership for free. It's worth noting here that we aren't a fan of that math at all, and thus only recommend the Studio Bike Pro.
From here there's also the matter of a difference in delivery. Peloton is known for the quality of their programming and the quality of their instructors. If you're an indoor cycling junkie, possibly a former SoulCycle or Spin class junkie, Peloton's classes will be right up your alley. By comparison, the iFit classes are definitely good and engaging, but going apples-to-apples the majority of the industry agrees that Peloton does it better.
There's also a consideration here of screen size. The Peloton Bike's 21.5-inch touchscreen dwarfs the compact 10-inch screen offered by ProForm, so that will impact as well. Personally, I'm less keen on the giant screen, as I find that much screen to be hard on the eyes given its close proximity to my riding position, but others will love the rich video quality and better sound output of Peloton's setup.
Conclusion — Who Wins?
As we noted, this is less a game of who wins the Peloton vs. ProForm battle, and more about which bike is better suited to what type of rider. If you're more value-minded, and don't mind not getting cutting edge tech if it means getting a better deal, go for ProForm. If you're an indoor cycling junkie, and/or someone who's obsessed with technology, Peloton remains pretty hard to beat.